---
Take Your Workout to the Next Level!
Looking for an effective full-body workout that you can do just minutes in a day?
Do you want a workout that you can do anywhere?
Now you can take fitness into your own hands and experience the gift of a great full-body workout you can take anywhere.

The Rope Beast Heavy Jump Rope is the perfect jump rope for athletes searching for a more high-intensity jumping experience.
Burn 1600 calories per hour.
Anywhere, anytime.
Empower yourself to engage in high-intensity cardio workouts anywhere with this heavy jump rope.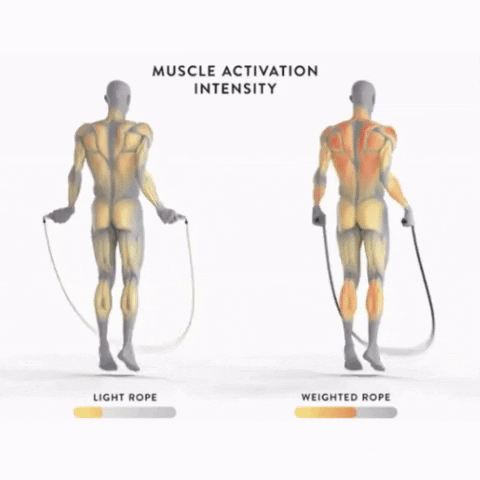 Ultimate smoothness for heightened performance.
Take your agility to the next level.

This heavy jump rope works more muscle groups than ordinary skipping rope.
Made with durable Poly Gripped fabric designed to last you years of daily use.
Save Time and Money.
This simple single piece of exercise equipment is all you'll need to get an effective high-intensity full-body workout.
It's More Fun and Exciting.
We believe for a workout to be effective, it must be consistent. For it to be consistent, you must want to do it on a regular basis. For you to want to do it on a regular basis, you have to enjoy it. And for you to enjoy it, it has to have an element of fun in it. 
Get Fit this SUMMER!
P.S Free Shipping and 50% OFF Ending Soon. COD ACCEPTED.
GET YOURS BY CLICKING BUY NOW ABOVE
Specs/Features:
Beginner (28mm thick by 2.8m long) 1.2kgs
Intermediate (38mm thick by 2.8m long) 2.2kgs
Advance (50mm thick by 2.8m long) 3.3kgs
Notice:
The actual color may be slightly different from the image due to different monitors and light effects. Please allow minor deviation due to manual measurement.
This site is not a part of the Facebook website or Facebook Inc. Additionally, This site is NOT endorsed by Facebook in any way. Facebook is a trademark of FACEBOOK, Inc.
Improves upper and lower body balance and coordination. Improves arm, forearm, wrist, and grip strength. Improves abdominal, back, chest and shoulder strength. Helps to burn more calories than a speed rope.
We recommend starting with 5-10 minutes per session.
Our jump ropes has a standard length of 2.8 meters or 9 feet can cater up to 6"2' in height.
Since the rope is very sturdy, you can only adjust it by holding the rope firmly on your comfortable length.
We have 3 sizes of heavy jump rope.
Beginner 1.1kgs by 2.8 meters/9feet
Intermediate 2.2kgs by 2.8m/9feet
Advanced 3.3kgs by 2.8m/9feet